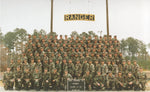 Get the most commonly asked questions about Ranger School answered, direct from the expert team at Blue / Green.
---
Why does running matter in the military? Will losing weight help me run faster? Where do I start?
---
What matters when selecting a workout program? Who needs one, what does a good one look like, and what does a bad one look like?